Welcome to the Wesleyan Virtual Instrument Museum 2.0!
This site is currently a work in progress - please check back soon for updates. Our YouTube channel is also being updated with new content as the site develops. Please contact Professor Eric Charry (echarry@wesleyan.edu) with any questions or comments. Thank you!
Featured Item
Featured Collection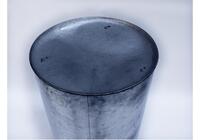 Time Period 20th century – present Physical Description The steel pan (or steel drum) is composed of from one to nine 55-gallon steel barrel…
Featured Exhibit
You have no featured exhibits.